Lodgix provides a default list of amenities that can be selected for each property. However, we recognize that many of you have amenities that are unique to your units and so once again we listened to your feedback and launched the Amenities Manager.
The Amenities Interface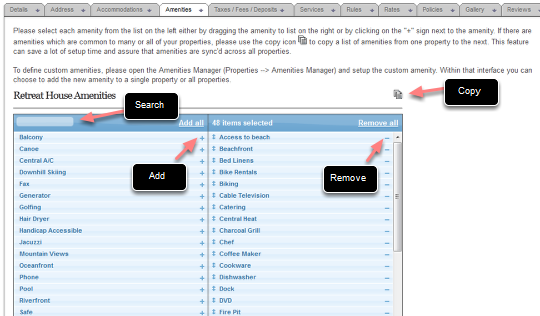 Each property has a tab for Amenities that can be found under Properties > List All Units / Rooms and then clicking on the pencil (edit) icon next to the property you wish to edit. This interface provides a list of amenities on the left. Your job is to choose which amenities apply to your property and move them to the list on the right.
You can move an amenity via drag and drop or by clicking on the "+" or "-" images next to the amenity. If you feel that the majority of amenities apply to your unit, it might be easier to "Add All
and then remove those amenities which aren't pertinent.
Make sure to click "Save" at the bottom of the screen to save your selections.
WHAT HAPPENS IF I NEED TO ADD A CUSTOM AMENITY THAT IS NOT ON YOUR LIST?
The Amenities Manager

This interface is found under Properties > Amenities Manager.
Step #1: Click on the green "+" icon to add a new amenity
Step #2: Name your new amenity
Step #3: Save the new amenity (disk icon)
Step #4 Select the new amenity
Step #5: Add the new amenity to all properties iva POPULATE ALL PROPERTIES button or choose individual properties and click on POPULATE ONE PROPERTY button.
The newly created amenities will be added to the designated properties and you are good to go! The "population" feature is nice for property managers with many properties. Using this feature a PM can create an amenity and add it to hundreds of properties at the click of a button!
Don't Forget the Copy Icon!!!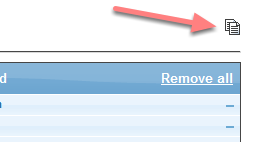 Many times your properties will have common amenities. You shouldn't have to spend countless hours selecting amenities for each unit. Once you've setup the amenities for a unit that you feel represents the majority of your units, then use the copy icon!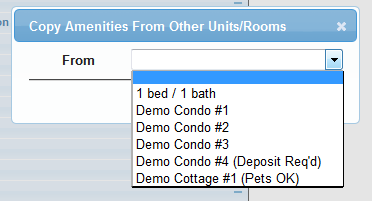 Choose the unit you wish to copy FROM and then copy it to the new unit. Whalah! All you need to do is tweak for any amenities that need to be added or removed.