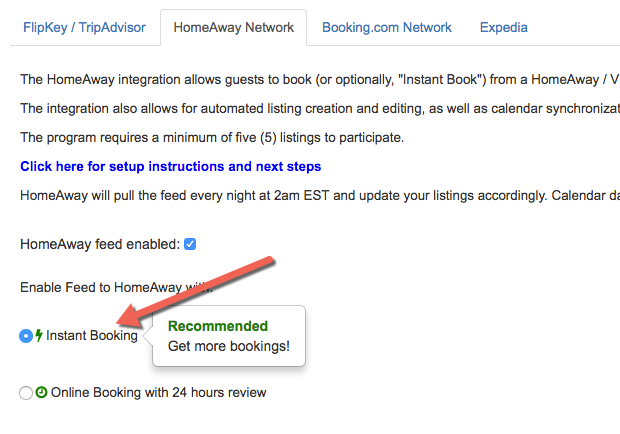 Lodgix subscribers now have the option of offering a guest the ability to "Instant Book"  on all Lodgix properties participating in the HomeAway integration. Guests prefer a property that's instantly bookable, and properties that offer Instant Booking typically enjoy higher conversion numbers.  On HomeAway, higher conversions = higher sort order = more bookings.
Previously HomeAway only offered the option to Book it Now, which allowed the property manager 24 hours to approve or reject the booking.   Instant Booking is really not that different, except that Lodgix will immediately communicate to HomeAway that the booking has been confirmed without any action on behalf of the property manager.

Within Lodgix, there is really no difference between the two options as all the processes typically required to confirm an invoice (reservation deposit payment, signed rental agreement, etc..) would still have to be completed after the booking has been confirmed. Instant Bookings can still be cancelled, however HomeAway requires that Instant Booking participants understand that too many cancellations of Instant Booking reservations will negatively impact that property's sort order on HomeAway.
Instant bookings are a filterable item on HomeAway.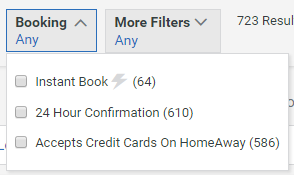 So the combination of a separate filter for Instant Book listings and the fact that Instant Book listings have higher conversions, is a pretty compelling reason to enable it for all of your listings.   The end result will be even more bookings from HomeAway as your property sort order will continue to improve versus other listings that aren't offering Instant Book.
Participation in the HomeAway Instant Book program does require approval from your HomeAway account manager.  They will review our account to determine if your booking conversions are high enough to warrant participation in the program.