In an effort to improve the calendar tape interface for property managers with many properties, we are launching real-time filtering. As the filter criteria are selected, the properties displayed will filter to only show properties that meet the filter criteria.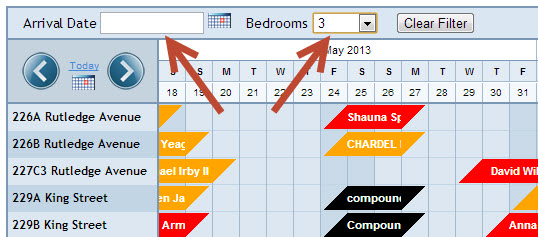 The initial filters are for the arrival date and number of bedrooms. Within a couple weeks we'll be offering an optional "Area" filter, which for those that have properties assigned to various areas (utilizing our Area Manager), you will now be able to quickly select the area and have ONLY properties displayed that are assigned to that area.
The fourth and final filter is also optional and will be a configurable filter where the Lodgix subscriber can select the amenities of their choice to act as filters. For some they may want to filter properties that are "oceanfront", for others having a "pool" might be super important, and for others it might be showing only properties with a "king bed", etc.. Everybody is different and to that end we will be allowing you the choice of determining which amenities are most important to you!
The filter bar is an optional component of the Calendar Tape. Go to Calendar Tape -> Configuration Options and choose to disable the filters if you do not want them displayed on the calendar tape.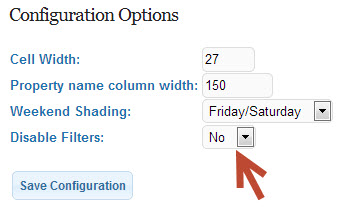 Eventually, once testing is complete and we are assured that filters are working across all platforms, we'll extend the filters to the guest online booking calendars as an option to display to your guests during the booking process.