I am definitely remiss on posts about new customers! I promise to do better in 2011. :-)
DeluxeCamp looks like a great place, especially if you like to fish (and I do!) and you don't mind the Ontario Canada cold!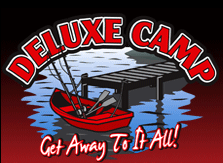 DELUXE CAMP, where you will find fishing for Northerns, Bass or Pickerel, canoeing in backwaters with a hint of history or you can simply stretch the legs and feed the soul. We are open from the Victoria Day weekend to Thanksgiving, during which time we invite you for either a long planned family vacation, a couple of days get-away-from-the-city-with-the-friends escape, or, a strictly fishing trip. Whichever you choose it will be a northern experience you will always remember.
If it's fishing you prefer, Lake Nipissing offers some of the most thrilling experiences in both spring and fall, for a wide variety of species including Muskie, Northern Pike, Bass, Walleye and yes, even Bluegill and the very popular Jumbo Yellow Perch.

View Larger Map

View more Lake Nipissing Ontario Vacation Rentals at VacationRentalDirect.com