Dashboard Reservation Widget Icons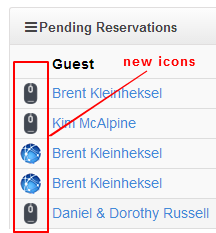 Lodgix previously had two methods by which bookings were entered into Lodgix, manually (phone) and online (booking calendars).  However now that we support two-way syncing with AirBnB and also bookings coming in via (new service soon be announced), it becomes more important for an owner or manager to be able to quickly look at the dashboard and determine where a booking originated.
Thus the dashboard reservation widgets now will show icons depicting where the booking originated: airbnb, homeaway, online or manual.
Calendar Tape Filter for HomeAway & Flipkey Listing IDs

Thanks to a timely suggestion from a long-time subscriber, we recently implemented calendar tape filtering for your HomeAway or Flipkey listing IDs.   When you have larger numbers of properties and lots of listings on sites like HomeAway, it's very common for a prospective guest to call in asking about availability for a particular listing id.
It can be tough to quickly match the listing ID to the corresponding property on Lodgix (especially for someone unfamiliar with your inventory).  To make this super easy we implemented a filter on the calendar tape. Now all that is required is to enter the listing ID in the lower left corner of the calendar tape and the calendar will filter the properties to only display the property that matches up to that ID!
This feature only works if the mappings are property setup within either the calendar sync area of Lodgix or within the inquiry configuration area of Lodgix.