For almost a year now I've been promising a new dashboard. Our current dashboard is static and offers the user no ability to customize it to display data that is most important to them. In our current dashboard the layout is comprised of straight tables which does not display well on mobile devices. In our current dashboard there are only six data windows: arrivals tomorrow, departures tomorrow, pending reservations, balances due, refunds due and statistics. Even worse the statistics haven't worked in five years. :-)
Here is a screenshot of the current dashboard: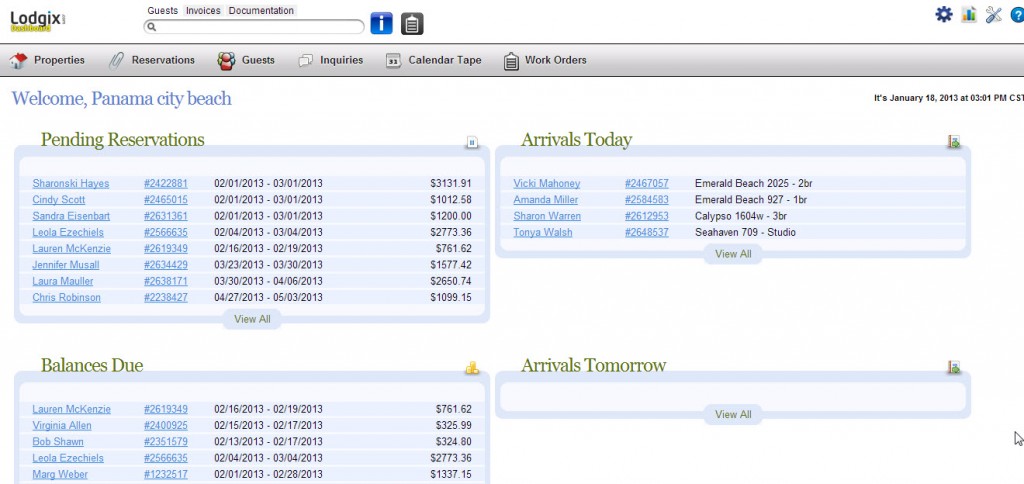 New Responsive HTML5 Dashboard
Our new dashboard will be a tool that is very flexible. We will add data from all over the application reservations, inquiries, revenues, total bookings, arrivals by day, week or month, departures by day, week or month, twitter feeds, facebook feeds, social media engagement, website visitors, anywhere we can pull data, we'll attempt to do it.
Just as important, you can determine what data you want and where you want it. The widgets can be dropped anywhere on the screen. Maybe you want to group your widgets and have tabs for each grouping, you can do that. Maybe you want your employee to only have access to a couple of widgets, you can do that. Maybe your property owners should have a widget or two that only pertain to them, you can do that.
Also the new dashboard is responsive, meaning it will display wonderfully on any size screen or mobile device. We will be recoding our header to be responsive in the next few weeks, so the whole application will take a nice step forward to working well on any size screen or mobile device.
Here is the most recent screenshot of our new dashboard: