The ability to generate owner statements is the latest new feature of the Lodgix.com Property Management Module. It's important to keep in mind that Lodgix does not pretend to be a competitor of larger companies like Escapia.com or LiveRez.com. We are building out a product that is cost effective by offering a feature set that is innovative and flexible and will work for most small to mid size property managers. Our product costs thousands of dollars per month less than a Escapia or LiveRez, yet still offers a competitive, flexible core product that allows you to manage and grow your business while keeping your hard earned cash working for you.
Accessing Owner Statements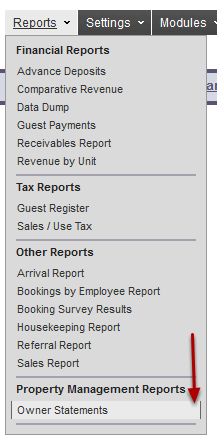 There is now a new menu item for Owner Statements under the parent menu "Property Management Reports"
Owner Statement Generation

Click to choose a preset date range or enter a custom date range.
Choose a Property Owner (note owner accounts must have been set up and properties assigned to the owner for any options to appear here)
"Save to owner account" will save the generated excel spreadsheet to the owner document account for future retrieval, emailing and editing
An excel document will be generated (see below). This document can then be edited, saved and uploaded to the correct Lodgix owner account for archival, future retrieval, emailing, etc.
Property Owner Documents

Owner statements generated from the application will show up in the owner account if the "save to owner account" option was selected at the time the statement was generated.
Choose a file to upload
Describe the file
Upload the file
The description or file name can be edited at any time.
Overview of an Owner Statement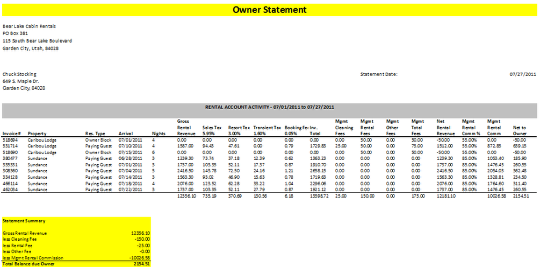 The Owner Statement is calculated using completed reservations only and can be computed using either preset or custom time periods. Thus a reservation that begins their stay in June and ends their stay in July will only show up on the July owner statement.
The Owner Statement can be calculated off of Gross Rental Revenue or Net Rental Revenue. Gross Rental Revenue contains rents only, it does NOT include any fees or services which have been added to the guest invoice. This will allow a clean number to be generated. The setting for gross or net rental revenue is set within the settings for each property owner as defined within the Property Management Module.
The Owner Statement is broken out by properties and sort by the arrival date for each property. Any taxes that are setup within Lodgix for each property will be broken out on the statement. Owner Blocks are also displayed on the statement.
Any fees that are setup within the property management module by the property manager to be assessed to the owner will be broken out and subtracted from gross rental revenue to arrive at a net rental revenue number.
Management commission percentages are displayed and the total commission generated is derived from either a % of gross rents or a % of net rents depending on what the property manager has setup for the property.
Net to owner is the amount remaining after rental commissions are subtracted from either gross or net rents.
Statement Summary

The Statement Summary provides a brief overall summary to the property owner .
Coming Enhancements
The purpose of the current implementation of the Owner Statement functionality is to aid the property manager in the manual creation of an Owner Statement. Future enhancements will greatly build upon the current functionality.
Items that are planned to enhance the Owner Statements in the near future:
Ability to make the Owner Statement available to the owner at login.
Ability to make owner documents available in triggers and email windows
Ability for property manager to record additional expenses within Lodgix that will be included on Owner Statements
Ability for a Owner Statement to carry a running balance
Ability to record date and check # or automatic transfer was completed for balance due to owner
Ability for Property Manager to generate all owner statements for all owners with one request. Current functionality requires each owner statement to be generated manually.
Ability for property owner / property manager to exempt property owner blocks from certain or all management fees
Possible option to include YTD totals on owner statements