On Tuesday, 15 Dec, we will relaunch the List All Reservations and List All Blocked Periods Interfaces: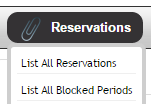 These two interfaces have been combined into one interface with two tabs:

The icons representing the invoice status are also changing: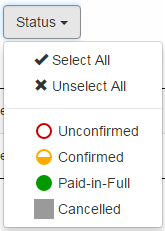 The changes are to improve accessibility for those who are color blind and also to make for a better user interface.
Blocked periods can now be edited from the new interface.  The dates still cannot be edit, but the description of the block can now be edited.