We've got some great enhancements coming up on Monday August 19th!
First up will be automated last minute discounts. Subscribers will now be able to define a last minute discount(s) and have those discounts automatically applied during the booking process. For example, currently if I noticed that I have period on the horizon where I have significant availability, I have to manually reduce the rates for that period for each property to offer a discount. That's way too much manual labor and it's inefficient!
Going forward, the new process will allow me to define last minute discount rules:
Rule #1: For all available nights in the next 20 days, discount 10%
Rule #2: For all available nights in the next 14 days, discount 20%
Rule #3: For all available nights in the next 7 days, discount 30%
Rule #4:  For all available nights in the next 2 days, discount 50%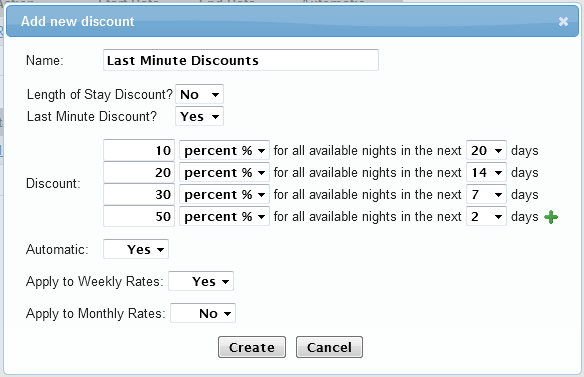 Thus this will allow the discounts to increase as the available night approaches. The best part is that these rules can be automatically applied which keeps my rate table clean and saves me a ton of extra effort – while increasing my occupancy.
Next up, will be applying discounts to specific periods.   The current coupon and discount code system does not allow coupon codes to be used for specific periods of time.  If you want to market a coupon code to your existing customers good for 10% off all summer 2012 dates, the guest could use that coupon code to obtain 10% off fall 2012 or summer 2013 for that matter.  That isn't the case any longer.   Discounts can now be assigned date ranges assuring that discounts can't be redeemed when they aren't applicable!