Lodgix.com wants to be more than just a management and online booking platform, we want to help you market your property(s) as well. We can do this by distributing your property and / or room data to other vacation rental marketing sites that will in turn generate inquiries for your rentals.
Do you REALLY want to put all of your eggs in the HomeAway / VRBO.com basket?

For many vacation rental owners sites the HomeAway network is a necessary component of their marketing plans. That's fine, they do deliver results and they are the premier vacation rental listing network in the world. However, there needs to be a viable alternative to the HomeAway network. It's never a good thing to have a monopoly and outside of a few up and comers like FlipKey, etc. there really aren't any head to head competitors out there anymore.
HomeAway has taken in over $500 million dollars in venture capital. At some point these investors will want out of their investment via a HomeAway IPO. When this occurs HomeAway will look at ALL ways to drive up their revenues. They are very cognizant that many property owners derive the majority of their business from their listings on HomeAway. Many property owners generate hundreds of inquiries per year, not including the 50 or more phone inquiries they might get – all for $400-$600 per year. This model simply will not last. HomeAway will move to a per inquiry pricing model, and inquiries generally price between $8 and $10 per inquiry, with phone inquiries being even higher. For many property owners this will raise their annual listing fees to $1000 – $3000 and they will be forced to pay it, because there are no alternatives that will generate similar results.
The Lodgix.com Solution to the HomeAway Problem

Most property owners do not list their properties on more than 1 or 2 listing sites because of the time required to add and maintain multiple listings on multiple websites. Keeping rates, images and marketing text up to date is a pain, and it's hard to determine the ROI from advertising on smaller vacation rental listing networks.
Our solution is to put all of your property data (images, marketing text, amenities, rates, availability, etc.) into an XML feed and then distribute that feed to as many free third party listing sites as we can. The math is simple. A HomeAway might generate 100 inquiries per year, and a 2nd tier site like VacationrRentalDirect.com might generate 10 inquiries per year. Therefore if we distribute your property to 10 sites that generate 10 inquiries per year, that would equal the 100 inquiries that you might normally generate from the HomeAway network.
The end result is that the property owner / manager gets a great alternative source of leads and mitigates their dependence on the HomeAway network in the event that HomeAway decides to change their revenue model and charge you more (much more) each year for your listing.
How do I access my property listings on other third party sites?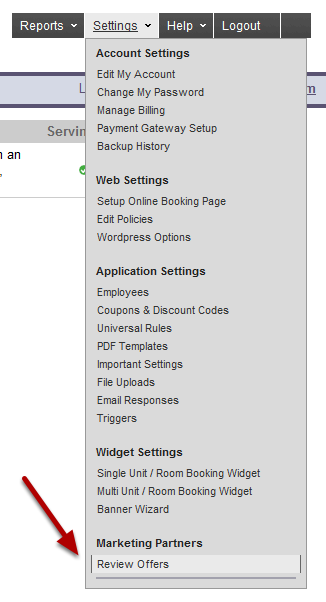 Go to Settings –> Marketing Partners and then click on Review Offers
Activating or Pausing Your Listings

For each of our third party marketing partners you will see links to both the primary website as well as links to your listing pages on the partner site. If you wish to pause / activate your listing, just click on the "pause" link and your listing will be removed from XML feed, and thus removed from the third part site within 12 hours.
VacationRentalDirect.com
Our initial marketing partner is VacationRentalDirect.com. A listing on the VacationRentalDirect.com site normally is $99.00 per year. However, since we also own VacationRentalDirect.com, we cut a deal with ourselves and are offering all Lodgix.com customer FREE listings for as long as you use the system. In order to qualify for the FREE annual listing each property must meet the minimum listing requirements, which are:
-minimum of four images
-google map address
-marketing text completed
Once those requirements are met, your property listing will appear on VacationRentalDirect.com within 24 hours. Of course you have the option of "pausing" the distribution of your listing(s) at any time. Any changes made to your listing on Lodgix.com are automatically updated on our partner sites within 24 hours. Availability data is updated immediately.
As time progresses we hope to add a slew of free listing sites as marketing partners. Sites like:
Craigslist
Google Base
Google Local
Backpage
BeachHouse.com
Vacation Rental Connection
Hutz.com
And from there we will solicit special deals from other paid listing sites to push your property data into their systems.
Connectivity with the HomeAway Network
If and when the HomeAway network publishes an API we will gladly connect Lodgix to their platforms to allow for seamless updating of your listings and calendars on their websites.